I just realized it's been a while since I posted a recipe. As I sit here, warm under a blanket and the heat on (Yes, even though its still about 50 out… but I am cold already) I figured it was a good time to post a soup recipe to prepare us for the cooler Fall and Winter months (nooooo…!)
This may seem like any other Chicken Noodle Soup, but it has the persian touch to it

Enjoy it!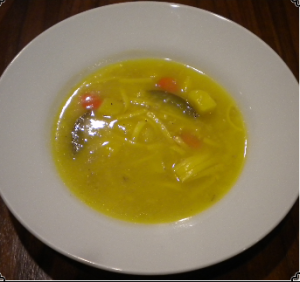 Ingredients:
1 pack thin noodles
2 potatoes
4 carrots
3 tsps green peas
4 cups homemade chicken stock or
3 cans chicken stock…

1 onion (optional)
1 tbsp lemon juice
Salt & Black Pepper
Saffron (here is the persian touch! SAFFRON!)
1 tsp tomato sauce
1/2 cup oats
Procedure:
1. Peel and chop the onions, carrots and potatoes into small pieces.
2. Pour all the ingredients and the chicken stock into the pot.
3. Take a handful of the noodles, break into half in your hands, then add into the pot.
4. Place the pot under warm heat until it boils.
5. You will see everything cooked and thicken a bit. Then add noodles at the end. (break the noodles a bit before putting into pan)
6. When pouring, can add some parsley for decoration.
Warm, comforting, and delicious. Enjoy it!