When I typically think Spinach.. I don't have the most pleasant thoughts. Until I think about "Borani Esfanaaj". Then it's, hello spinach!
This is an appetizer that is usually made when we have company over. Not sure why it was always saved for more special occasions but I accepted it. It is a nice mix of yogurt (and not just any yogurt!), spinach, walnuts, and more. You can eat it just as it is, or with some pita bread, crackers, etc.
Enjoy!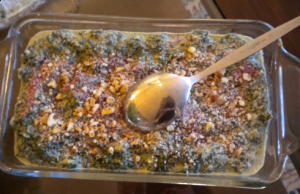 Ingredients:
1 package chopped frozen spinach
1/2 tbsp olive oil
1 small onion
1 tbsp chopped dill
Salt & Pepper
1 tsp dried rose petals
1/2 cup Mast Musir (persian yogurt with shallot)
1 tbsp chopped walnuts
Process:
In a bowl of water, wash the dill and then pour into a sifter. Do this 3 times to fully wash.
Pull off the dill pieces from the branch and then place in food processor on chopped settings *at this point you can place this in a ziplock bag and freeze it to use later.
Fry some onions using olive oil until a golden brown color.
Place the frozen spinach into a sifter and pour hot water over it so it melts.
Take pieces of the spinach, squeeze the water out and put into the pot with the onions. Fry them all together a bit.
Add little salt and pepper.
Add the rose petals and the dill.
Mix them all in the pan.
Pour them all into the platter and add the yogurt. Add the walnuts.  Mix all together. See if anything more is needed based on the flavor you want.
When poured into the serving platter,  decorate the top with walnuts and rose petals.
All set!