About a week ago, I came across a post on Facebook that had images of beautiful cards with Farsi writing. Despite the fact that I can't even read farsi, I was intrigued to see what it was so I investigated some more.
Afsoon Talai is the founder of Golreezan.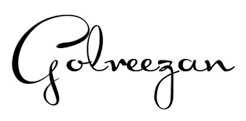 Here is her story below.
1. What is your business – what do you offer?
Golreezan is a line of Persian-inspired stationery and wall art I started in 2012. We offer greeting cards for Norouz, birthdays, newborns and thank yous and really pride ourselves in the quality. (me: perfect with Norouz coming up!) Our cards are all printed on high-quality paper stock and the designs use bold prints and colors. Best of all, we have cards written in both Farsi and English! That was a part of the aesthetic I was most excited about. We also carry wall art – stick-on decals that come in a variety of Persian sayings. My personal favorite is the noosh-e-jaan decal for the kitchen! Aside from what we offer on our website, we also create custom designs, whether it's wedding invitations, business cards or save the dates. It's always fun to bring someone's personal vision to life.
2. What motivated you to start the business? 
I've loved paper product design for so many years, so when I went to college at the Rhode Island School of Design, it wasn't too hard to pick a major. After graduating, I worked for an event-planning company where I designed save the dates, wedding invitations, menus and other materials for high-end clients. But really, the idea for Golreezan was born when my mom asked me to create Norouz cards to send to her friends and family.   I realized there was a real void of Persian stationery (Me: I remember I used to look for something like this and couldn't find it)  for Iranians living outside Iran and started Golreezan to fill that void. It's been rewarding – not to mention incredibly fun – to bring together graphic design and my Iranian heritage in an interesting way.
3. What were some challenges you faced in doing so? (if any) 
I always wanted to create designs that would relate to all Iranians regardless of age or whether or not they could read and write Farsi, but it was initially a bit of a challenge to balance advanced texts with more basic ones. I'm constantly aware of striking a happy medium between the two, and it's getting easier as Golreezan grows.
4. What are some of the recent news (events, etc).
We're now selling in stores in southern California! (me: Exciting!)

5. Plans for your business in the upcoming year?
In the upcoming year, we're planning to expand our line. Nursery-themed paper products and décor, wedding invitations and congratulation cards are just a few of the ideas we have in mind. Beyond paper products, we're also working on ideas for Persian-inspired fabrics and clothing. There are so many possibilities! Keep checking out our website for the latest!
6. Anything else you want to share
Growing up in another country while trying to maintain our cultural identity can be challenging (me: agreed… you have to find a balance) at times, but there are a lot of ways to keep our culture vibrant – from food and music to art and literature. If Golreezan can help someone maintain that connection in even the smallest way, I would consider my mission accomplished. (me: That is so true.. and so great she is doing this.)
Some of her work below and see more on her website!