I have been following Sara's website for a long time now. Her experiences, travels, and stories are amazing. She is an Iranian-American born here in the US with parents who came from Iran and she is the founder of Eat Feel Fresh. This is the first social media website dedicated to healthy eating and the one-stop-shop for healthy recipes, nutrition articles, diet advice, food facts, natural beauty advice and more.
Had the pleasure of interviewing her recently, and hope you enjoy learning more about her!
——————————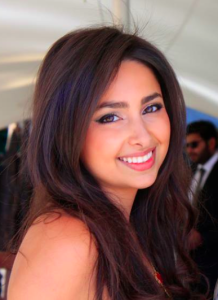 What is your website about? What do you offer?
As a holistic nutritionist, ayurvedic practitioner and health coach, I am passionate about educating confused 20-somethings about the world's most conflicting science- nutrition. After blogging for several years, I decided to make www.eatfeelfresh.com a social media website, allowing users to post their own recipes and articles so people can read and share the real truth on what works and what doesn't. I felt there wasn't a forum for people to discuss diets, healthy recipes and fitness. I also provide nutritional consultations, helping clients get their dream bodies and achieve health through specific meal plans designed for them.
After becoming certified in Ayurvedic Nutrition in India, I learned how important it is to eat right for your specific body-type, so I also assess the client's "dosha" so they're consuming the correct foods for their body. I am also currently writing a book infusing modern nutritional science with Ayurveda, The Whole You Diet, that contains specific recipes for each body-type. I do have a huge sweet tooth so I love making healthy versions of my favorites.
What motivated you to start the website?
I started blogging after falling in love with food while studying abroad in Rome. I loved how food was such an integral part of their culture and this greatly contrasts with the "fast food" culture in the US. After a year of blogging, my article The One Week Detox: What To Eat To Remove Toxins received millions of hits. People wanted to know more about my holistic approach and I began creating meal plans for people. I taught myself web design through YouTube videos and began building my website. I educated myself around the clock! I think what interested me about nutrition so much is that you can see it's affect on your own body.
Growing up as a chubby kid, I learned at a young age that what you put into your body you will get out of it. I started secretly going to the gym when I was in 7th grade (and the other kids were stuffing their faces with Cheetos) and cutting processed foods out of my diet. I knew the power of food from my own experiences and wanted to help change people's lives in a way they would be open to. I have always been a philantropist, doing community service and living in orphanages in Vietnam, Costa Rica, Thailand, Nicaragua, Peru, India, etc since I was 15, so for me, nutrition is my way of helping people. That to me is the ultimate satisfaction.
What were some challenges you faced?
Girl, you mean how many! First of all, I had no background in nutrition or computer science so this was completely out of my comfort zone. My advice to anyone who wants to do something completely out of the major is just to go for it. When I started blogging, I never ever ever could imagine this would become a career for me. Challenges will always be there, especially as an entrepeneur. You are working around the clock- if you think being an entrepeneur is a way of working less, it's quite the opposite- instead of working 9-5 you're working 9-2am. You have to be a very self -motivated person. My website has crashed multiple times, I've lost hundreds of articles, I have had web designers quit with my code and change the email addresses so I couldn't access my account. I've dealt with all of it on my own and each obstacle has made me stronger.
What are some of the recent news?
I have recently filmed a promotional video for my book, The Whole You Diet, which contains specific recipes for each body-type based on Ayurveda and modern nutrition. Ayurveda is the world's oldest health system, originating 5000 years ago in India based on the same Sanskrit texts as yoga. Ayurveda sees your body and mind as a connected entity. Symptoms like bloating, headache, fatigue, binge/stress-eating, constipation, cold hands/feet, acid reflux, IBS, lethargy and irritability are all signs that you're out of balance. I give specific tips for each body-type on how to achieve health, lose weight, get radiant skin and improve digestion. Following an Ayurvedic diet has given me more energy and has made me into the best shape of my life, so I'm super excited to share this Eastern philosophy that's barely known about, with the Western world.
What are your plans for your website in the upcoming year?
I want to expand my consulting services to do more group coaching so it's affordable for the average 20-something. I am also getting my certification in sports nutrition, so I'll also be helping people who want to get into peak fitness.
Anything else you would like to share?
As an Iranian, it was not at all easy for me to make the change to a healthier lifestyle. I received a lot of criticism from family who thinks I'm "divooneh" not to eat meat, and that I'm going to fall over and die if I don't eat "jigar." I've literally been force-fed cow liver before. Persians love feeding people and put so much love into their food, that they often get offended if you don't eat it, which puts you in a really compromising position. Remember- your mouth is not a trashcan. You don't need to eat everything at the mehmooni just out of tarrof and just because there are 30 different desserts beautifully displayed on the table, doesn't mean you have to eat every one. Everything you put into your mouth will bring you either closer or further away from your goal. Explain to your loving Irooni parents that you want to be more healthy and you'd love to make food for them one day. Things like salad shirazi, kookoo sabzi, lentil soup and masto-khiar are extremely healthy! In fact, I'm thinking of making my next book The Persian Diet! I mean, what other culture has a huge plate of sabzi on the table during every meal. Look out for my recipes like tempeh- Fesenjoon and tofu ghormeh sabzi!


————————
Thank you Sara for your interview!
You can have nutrition info, healthy suggestions and clean eating recipes delivered straight to your news feed by following @eatfeelfresh on Instagram and by liking Eat Feel Fresh on Facebook.
Also, check out the Eat Feel Fresh website.