Hi everyone! I'm so happy that Shirin has invited me back to The Saffron Life! Despite having never met, she and I have become great contacts, and shall I say friends?! Shirin and I wanted to write about another healthy spin on Persian food, so today I've got three super healthy dishes anyone can indulge in. Whether you're new to Persian cuisine or eat it on a regular basis, these sumptuous dishes have your name written all over it!
Mast-O-Khiar: Plain Yogurt and Cucumber Sauce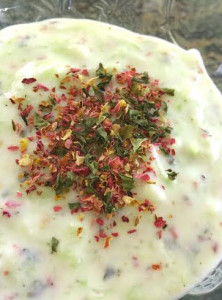 I talked in my previous post about the wonderful health benefits of yogurt. Rich in probiotics, protein, and calcium, yogurt is definitely a food to incorporate in your diet.
Many people don't know what to do with plain yogurt at the grocery store. But for us Iranians, plain yogurt is an essential component of any meal! Try making this mast o' kheyar next time hunger strikes!
Serves 2
1 small cucumber, peeled and grated
1 cup plain yogurt
Salt and pepper to taste
1-2 tsp dried mint
1/2 tsp ground thyme
1/2 tsp dried rose petals (optional)
Mix all the ingredients together. Cover with plastic wrap and chill for 30-60 to boost flavors if desired.
Ajil: The "Other" Trail Mix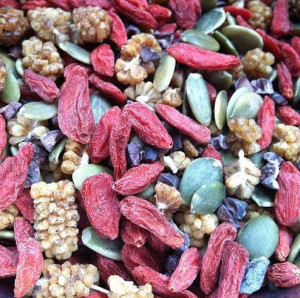 Many think of trail mix as their favorite nuts, dried fruit, and a little chocolate all mixed together (Because honestly, what would trail mix be without chocolate?) Iranians are probably one of the first cultures to really take trail mix (i.e. ajil) to a whole new level. Because it's portable and doesn't require refrigeration, ancient Persian nomads would frequently pack this delectable mix of needs, fruit, and seeds with them on long journeys.
This version of ajil is by no means traditional. But keep in mind that back in the day, ajil was endemic to the region of Iran; people simply used what they had on hand, and it wouldn't be surprising if every household had their own version of ajil. My version is packed with superfoods to give it the ultimate nutritional punch!
Serves 12-16 (1/4 cup portions)
1 cup organic dried goji berries
1/2 cup organic raw cacao nibs
1 cup organic dried mulberries
3/4 cup organic raw pumpkin seeds.
Combine all ingredients together. Store in a cool dry place, or portion into individual plastic bags for a quick snack on-the-go.
Hummus: Not Quite Persian, But Definitely Delicious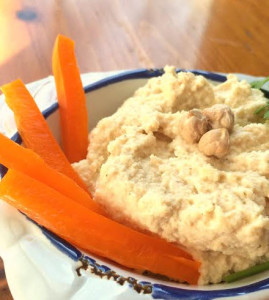 Okay, so this last dish isn't exactly Iranian. But over the years I've come to realize that Iranians love hummus! Although this is technically an Arabic/Israeli dish, Iranians love chickpeas and the flavors in this dish are pretty familiar in Persian cuisine.
If you're unsure about sprouting beans, you're welcome to use canned chickpeas that you've rinsed and drained. I like to sprout them, however, because there's new evidence indicating that sprouting will help you absorb more nutrients from the chickpeas and digest them better.
Serves 6-8 (1/4 cup portions)
1 ½ cups chickpeas raw
2 tbsp extra virgin olive oil
2 tbsp tahini heaping
1 tbsp minced garlic heaping
3 tbsp fresh lemon juice or the juice of 1 lemon
6 tbsp water
Soak the chickpeas in large bowl overnight. In the morning, rinse and drain the beans. Let them sit in your kitchen, rinsing and draining in the late afternoon. If you don't like the idea of letting beans sit out all day exposed to the elements, feel free to cover the chickpeas with a damp paper towel. After 3-4 days or rinsing and draining, you should have sprouted chickpeas! Blend the chickpeas, lemon, garlic, tahini, and olive oil in a high speed blender. Add salt and pepper to taste. If you notice that the hummus is too thick or won't blend properly, gradually add the water, 1 tbsp at a time. You might use all the water. You might use have. You might not need any. It really depends on the consistency of hummus that you're looking for.
———————————-
Thank you Taji for sharing these recipes with us! 
Check out We're Talking About Food. 
Their Facebook Page.