No, we couldn't just stop at chicken salad, or potato salad or a nice simple egg salad. We went above and beyond, mixed it all up and came up with Salad-e Olivieh!
Such a multipurpose and delicious dish. In my family it is either an appetizer for a party with some crackers, a late night snack, or even as a sandwich with some sliced bread. I won't lie, the garlic in this can be pretty strong sometimes. Bring into public with caution!
Regardless, a favorite amongst many. Enjoy it!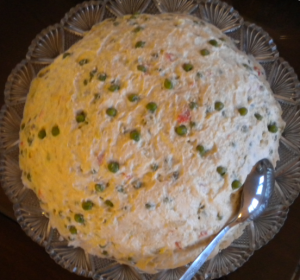 Ingredients:
4 medium sized potatoes
6 eggs
2 carrots
1 full chicken breast
4 persian pickles
2 cloves garlic
Salt
Ginger
Helman's Olive Oil Mayonnaise
2 tsp lemon juice
1 tbsp olive oil
White pepper
Procedure:
1. Wash the potatoes, carrots and eggs and place them all in a pot
2. Cover full with water and bring all to boil on low heat (potato takes longer to come to boil, but let them all continue boiling)
3. Remove any skin off the chicken breast, wash and clean in a different pot
4. Add water about few inches into the pot with the chicken, doesn't have to cover
5. Add little salt and ginger to the chicken for flavor
6. Don't cover the pot fully and keep on low heat until chicken is cooked. Should take about 20 min
**At this point you could keep all these cooked vegetables in the fridge for later use
7. Peel and chop the potatoes, eggs, carrots, pickles and chicken
8. Mix together in a bowl
9. Add some salt & pepper, lemon juice, olive oil and chopped garlic (little by little and taste, your own choice on how much)
10. Add mayo slowly. Again up to you on how much you want
11. Taste to see if needs anything more based on your own liking
12. Pour onto a platter
13. For serving, you can put a layer of Mayo on it and design with olives or green peas (this is up to you)
That's it. Quick, easy, and delicious.