Resilience, Love, Loyalty, Triumph, and Peace. These are the words that describe Rahimeh Andalibian, Author of  "The Rose Hotel", an Amazon best seller.
I met Rahimeh at a book signing in Boston in November. I was unsure what her book was about and who she was. But I felt I had to be there and meet her. And I am so glad I did. Her welcoming and warm personality, eloquent reading, and inspiring story has stuck with me since.
I have already finished her first book, "The Rose Hotel"  and am honored to have had the opportunity to interview her below.
Thank you Rahimeh for your story below.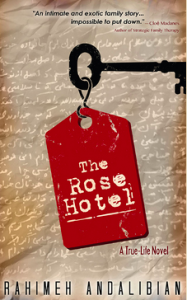 First – one of my favorite quotes in the book: 
 "Our family was blown apart as one child after another vented their long unspent feelings. We each faced our inner turmoil and outer conflict with our new society and culture, the opposition from our old-world father and the struggles within ourselves." pg. 203
————————————-
1. What inspired you to write this book?
In April 2008, I sat on my balcony facing the Pacific Ocean as I had for the past five years. I took a deep breath and I knew: my life was about to change forever. I had been successful. I had a great professional career, a fabulous home, and status. Yet, I was facing economic and personal devastation. I was losing my home and my business  ̶  my sense of success. These changes forced me to decide who I was and what I wanted for the rest of my life. Sitting there that day, I finally knew: I had to embark on the greatest challenge of my life  ̶  telling my family story. I  knew, I could no longer not tell it. (Me: that must be such a special moment when you, in a single moment, realize you just have to do something..)
2. What was the biggest challenge you faced writing this book and how did you overcome it?
Initially, my biggest challenge was to overcome my own inner fears (Me: this can sometimes be the only challenge, and hardest to overcome) and get prepared for what this journey was going to take in order to be successful. I doubted my writing ability, but decided to do whatever it took to write this book. I sought out writers, writing coaches, a book doctor  ̶  anything and everything to figure out how to achieve this goal. After finding the right editor and coach, the greatest challenge, by far, was getting a timeline of events, writing everything out as I went through the roller coaster of emotions, digging into the pain of the past, stirring up the pain for my family as I interviewed them, and then deciding what parts of the story stayed and what parts got edited out so that the story flowed and read like a novel
3. What are the future plans for you and this book?
My purpose in writing this book is to contribute – to help individual agents of change in families shift themselves, their views, and open up and connect to their loves ones and world.  I hope to touch lives and maybe change minds. That is not possible if people don't read the story, thus the current goal is to have the story reach as many people as possible. Future goals will include multimedia approaches to sharing the story. I'm currently in discussion about an animated serialized version of the story. (Me: I read it… I loved it..) 
4. What is your next project?
"Glass Houses" is a play I'm producing and co-writing that weaves together fifteen autobiographical stories exploring internal dynamics within the greater Middle Eastern families, along with the external realities of being immigrants. This play was created to promote questioning and awareness by portraying themes of love, loyalty, disability, mental illness, and acculturation fueled by inter-generational family legacies linked to addiction, trauma, violence, sexism, gay/lesbian issues, shame, and success.
Check out a piece by clicking here! 
This experience exposes the universality of the human condition in order to combat ignorance, prejudice, and discrimination with the hope of increasing insight, healing, connection, and peace.
There will be a kickstarter campaign in the next few months followed by tours in Los Angeles and New York City.
THANK YOU Rahimeh jan for this interview & it was a pleasure to meet you!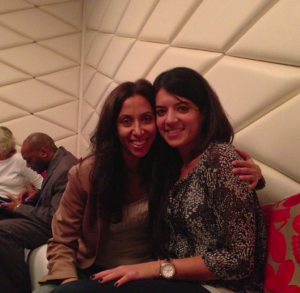 Stay Connected:
**Holiday Sale on the book! Check it out!  Available in different formats. 
"The Rose Hotel" Facebook Page