Dolmeh, or Stuffed Grape Leaves, are very common in so many different cultures within the Mediterranean and Middle Eastern cuisines. Each type has a little bit of a different variation… one extra spice here, one less spice there.
I can safely say though that any kind I have had, I have loved. Although, I will be a little bias and say that I think this recipe is probably the best one

Have it as a snack, as a meal, or both!
Enjoy!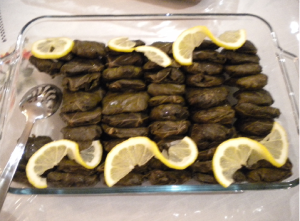 Ingredients:
4 cups chopped green onions

1 cup dill

1 cup yellow peas

1/2 cup rice

1/2 cup ground sirloin meat
1 medium onion

1/2 cup yogurt

Grape leaves
Spices:
Salt

Pepper

1/2 handful marza (herb)

1 cup bulgar

1 tsp turmeric powder

2 tbsp rose petal powder

2 tbsp lemon juice

1 whole garlic peeled and chopped
Process:
1. Mix all the spices.
2. Empty the water out of the grape leaves jar.
3. Put leaves into a pot with water to get rid of the salt (for one hour).
4. Boil the yellow peas to cook and then mix the cooked peas, rice, ground meat and spices together to make the stuffing.
5. Put a few grape leaves onto the bottom of the pot.
6. Put stuffing into each grape leaf and place into pot to fill it up.
7. Add 1/2 cup hot water on top of the stuffed leaves.
8. Put some leaves to cover the top.
9. Put a plate on top (that won't break with heat).
10. Put cover on the pot.
11. 1/2 hour later remove plate.
12. Add 4 tbsp olive oil on top of the leaves.
13. Add some lemon juice and put cover back on to boil some more – about 10 minutes.
14. Taste to see if it is ready.
You are done! Oh, and my favorite way to have this is with some yogurt and pita bread