Hi everyone! I'm so happy that Shirin has invited me back to The Saffron Life! Despite having never met, she and I have become great contacts, and shall I say friends?! Shirin and I wanted to write about another healthy spin on Persian food, so today I've got three super healthy dishes anyone can indulge in. Whether you're new to Persian cuisine or eat it on a regular basis, these sumptuous dishes have your name written all over it!
Mast-O-Khiar: Plain Yogurt and Cucumber Sauce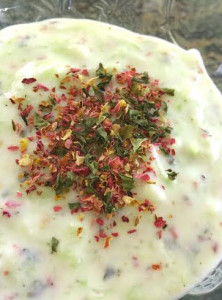 I talked in my previous post about the wonderful health benefits of yogurt. Rich in probiotics, protein, and calcium, yogurt is definitely a food to incorporate in your diet.