A few years ago, I had an idea for a project. Something that I thought would probably take me only a couple of days to complete.
I wanted to compile some of my favorites persian recipes from my mom. So, I started by determining what I needed to do to get this done. Find a software that makes online books, figure out a day that I can sit with her,  when I would type them up, and then, print it. No big deal I thought. This is a great side project and something I can complete soon. (I love to complete projects and I get pretty excited about just that fact alone and try to find the fastest way there…)
And so, I started.
It was a Saturday morning and I told my mom that I wanted to write down some of her recipes in the next couple of days. Her face lit up. What else would any mom want than sitting with their daughter all weekend, reliving some memories of these persian recipes? So we started with one of my favorite recipes, Khoresht e Karavtz.
After a bit…
"And add a little bit of cardamom" she said.
"Well… how much is a 'little bit'?" I asked.
"I don't know, Shirin. We just throw it in there. When I watched my grandmother cook persian food, this is what she did. She also added some of this…and that…and this" on and on!
Sigh…what?! 
After that first recipe, I realized two things. This project was not going to be done in one day! And this is not a project but a journey. 
From that point on, I realized I wanted to actually listen the stories. I wanted to hear the details of each recipe. I wanted to take real pictures of my mom's food when she cooked it. More importantly, I wanted to spend the time sitting with my mom, no distractions, just me, her and her recipes. 
I finished the recipe book about a year ago. It took a couple of years to finish, not a couple of days.
Once I accepted that this was a journey and not just a project, it didn't stress me out as much. I didn't over think it. I didn't try to rush things.
Here it is…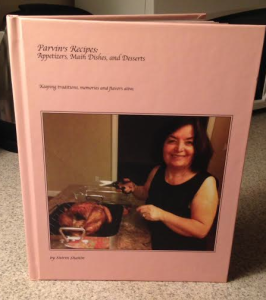 I try to remind myself of this in other aspects of life. If you don't get to your end goal fast, then the journey just isn't done.