It's August already and summer is in full force. I hate jumping ahead but since it is August and our summer weather is very precious, it is time to make sure you go on a picnic! That is a formal request from The Saffron Life to you!
Growing up, whether there was a special occasion or not, I would make an effort to head out with family and friends, sit by the beautiful Charles River, lay down a blanket, bring some bug spray, and basically EAT and HAVE FUN. But these were not just any type of picnics…they were Persian Picnics.
So, what makes a picnic more Persian?!
Here are the top 5 things you must bring with you to have a true Persian Summer Picnic.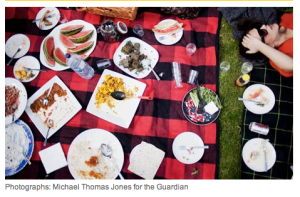 1. Dough. The drink of choice!
Anyone who knows me, knows how obsessed I am with Doogh.
It isn't even a joke or an exaggeration. There are times I crave it. Therefore, it is a must-have at a picnic at least for me. Refreshing, tasty, and it's a very acquired taste so if you don't like it, then I understand. Just try though!
Best. Snack. Ever. Having some "Panir", typically a type of feta cheese with some 'sabzi' which is usually mint or basil and some "Noon", warm, thin bread, is both comforting and tasty. Very light and refreshing and really great for anytime of the day.
3. Cutlets (my own recipe!)
These can be a bit labor intensive but well worth it, and can be served warm or cold, perfect for a picnic. They include a mix of beef, potatoes, and eggs and can be eaten with bread, mints, and tomatoes.
4. Musical Entertainment (on my current playlist)
It is not a Persian picnic without some Persian music. So… bring that iPod, speakers or boom box if you still live in the '80s and sing and dance. People might look at you funny, but it's ok.
5. Lavashak (Kind of like fruit!)
One of my favorite snacks is Lavashak. Essentially, a Persian fruit roll. There are a variety of types such as sour cherry, plum, or barberry. You could find them at a Persian store or you could also order them online.
So grab your items, find a piece of grass, and enjoy your Persian Summer Picnic!